Learn About the New Xbox One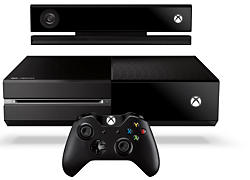 Microsoft's latest console, the Xbox One, has new technology and features that offers a more integrated gaming experience when it drops this November. Internet connectivity, access to apps and cloud storage are at the forefront of this console's evolution into a new type of online gaming. Having access to new Web options connects players to other users and their favorite games. Some features include integrated support for live streaming gameplay online, the ability to record and share video highlights from gameplay and expanded Xbox Live service. The device is similar to a computer because it allows users to store music and movies, as well as access apps such as Netflix and Skype. The Xbox One is great for gamers, but it's also a device the whole family can use for a variety of online activity.
Microsoft opens up the possibilities in the new device with its focus on online integration. Virtually anyone can use the Xbox One for everyday fun, such as watching movies, listening to music and live streaming, in addition to online gaming. The device features apps that are accessible with an Xbox Live subscription, including Hulu and the NFL app. You can also store music, movies, TV shows and other files, just as you would on a computer. Cloud storage allows you to store files and back up the hard drive remotely online, so even if you need to save space on the large, 500-GB hard drive, you can.
It's also easy to integrate your cable TV with the Xbox 360, so you no longer have to fiddle with the remote control to switch inputs when you want to switch back and forth. You can also change the channel, switch to cable and perform a variety of other functions with the voice command option incorporated into the Kinect 2. It'll be easy for young children or family members who might not know a lot about technology to switch from the device to watching TV. Another upgrade is the Xbox One Wireless Controller, which has the new impulse trigger feature. The controller is also smaller and has better grips so you can play with ease.
Motion capture
While users of the Xbox 360 had the option of buying the Kinect camera and motion censor as an add-on, users who buy an Xbox One will already have that technology incorporated into the gaming console. The Kinect 2 has a larger field of view and a higher resolution camera that allows users a faster response time when they're playing. The Kinect 2 is also significantly faster and has a more powerful processor than its predecessor for the Xbox 360. The Kinect 2 can react to gesture and voice commands, regardless of whether the system is on or off, meaning you can command your console on instead of crossing the room and searching for a power button. The device can track up to six players at once and gives players smoother and faster interactions with their games. The technology uses infrared, so the device can even work in the dark.
When you're ready to take the next step in gaming excellence, get an Xbox One at Kmart. We have everything you need to take your game to the next level.
---
---