Kmart and St. Jude Children's Research Hospital® - Partners in Advancing Cures

To see The Giving Hat in action, check out this fun video.
Limit 1 of this OFFER ID per transaction. Valid for original member only. Use of this coupon constitutes your acceptance of the SYW terms and conditions, available at www.shopyourway.com/terms. Redemption limited to either digital or in-store. Cannot combine with any other coupon for same item(s) and cannot double. Limit (1) per transaction. Void if transferred, copied, obtained via unapproved means and where prohibited; any other use constitutes fraud. Coupon value pro-rated across all qualifying items; including qualifying items purchased in addition to minimum requirements or limits and will be deducted from any refund. Cash value 1/20 cent. Not valid on non-merchandise; concessions; gift cards; government regulated or age restricted; fuel; items behind pharmacy counter; prescriptions; prior purchases; partial-paid special order; Sears merchandise; and Scrubology. Additional exclusions for online purchases, see exclusion text at checkout. Valid in US and PR. Receipt of this coupon may affect the tax deductibility of your donation. Consult your own tax advisor.
See details.
Kmart St. Jude Life Center
To celebrate the more than $76.7 million Kmart has donated since 2006, St. Jude named a facility at the Memphis campus the "Kmart St. Jude Life Center," in the company's honor. The center helps patients stay healthy after active treatment ends.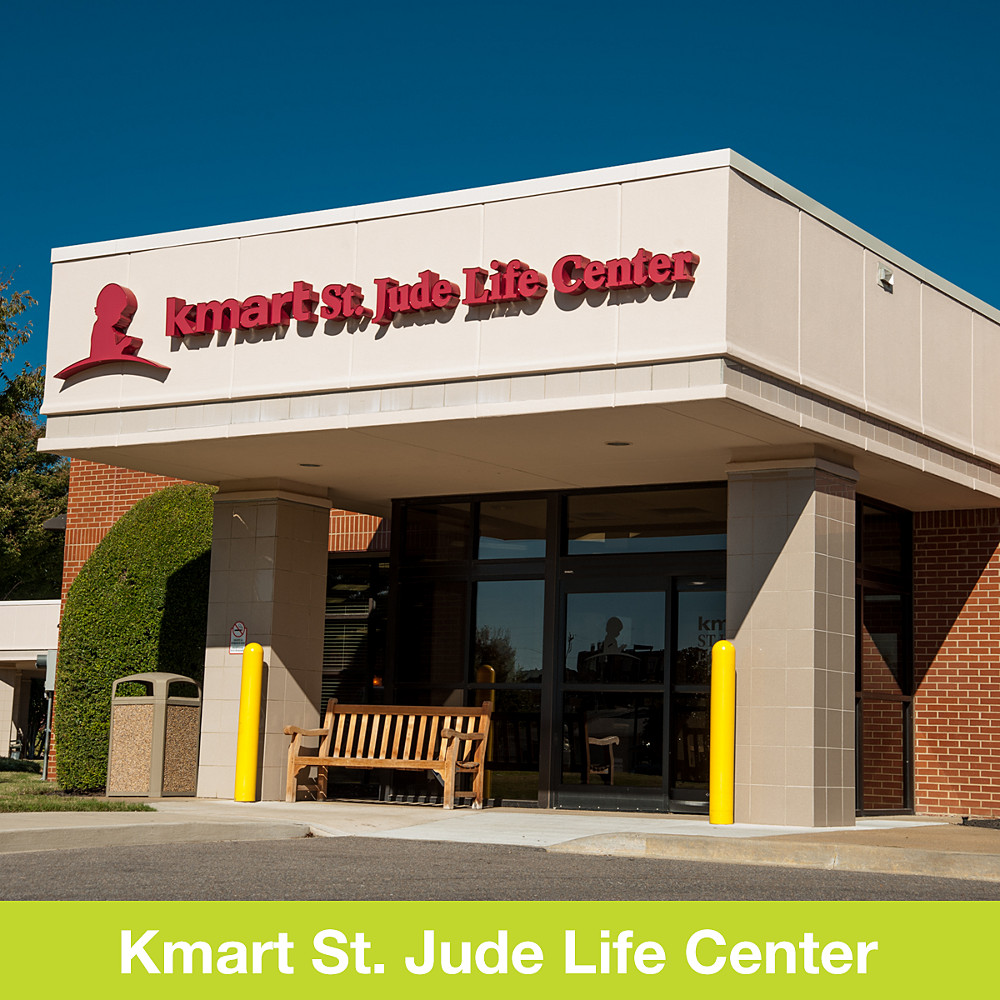 ---
St. Jude & Kmart - A Thanks and Giving Story
This is just one of the many inspiring stories coming from St. Jude
Children's Research Hospital, made possible by the generous donations of
Kmart members, customers and associates. Become a part of stories like
Hailey's when you give to St. Jude.
---
St. Jude & Kmart - Partners in Advancing Cures
With the support of Kmart and its shoppers,
St. Jude is able to continue providing care and treatment of sick children from around the world.
Enjoy this special message from Marlo Thomas on how giving means saving lives.
---
*Donate by 1/2/16.
100% of donations at Kmart will benefit St. Jude Children's Research Hospital, a not-for‐profit, 501(c)(3) organization which seeks to advance cures and means of pediatric catastrophic diseases through research and treatment.
Donations to St. Jude are tax deductible as allowed by law.
For more information on St. Jude visit STJUDE.ORG.
---
Give more than just gifts with Kmart and St. Jude
The holidays are a time of year where friends and family get together to celebrate the season and give thanks for each day spent together. This year, you can give even more with the partnership between Kmart and St. Jude Children's Research Hospital.
Starting on Nov. 8, you can purchase a Giving Hat in stores and online. A dollar from each hat will go directly to St. Jude. These knit winter hats come with different reminders on them inspired by St. Jude patients. Smile, laugh a lot and give thanks – these are three things we often forget to do during our busy lives. Life can get in the way of what truly matters, loving those around us. By purchasing this hat, you can help someone else smile more, laugh louder and be more thankful every day.
After you buy a hat for yourself or pick one up to gift to a friend, join the conversation by posting a picture to social media with the hashtag #TheGivingHat. You'll be able to follow everyone else who is working to make a difference. Small gestures can add up to a big impact in the life of someone who needs a helping hand, and this is a great way to pass along that message. Join in and help Kmart and St. Jude make this season of giving as happy as possible.