Your Games Come Alive with Nintendo 3DS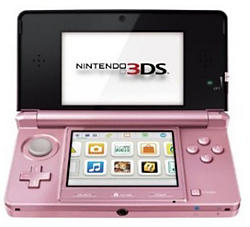 Whether you're looking for a portable gaming device for you or for a loved one, the Nintendo 3DS is a console that will provide a high-quality gaming experience wherever you go. With dual screens and 3D graphics that don't require special glasses, gaming is taken to a new level all in the palm of your hand. The upper screen display gives objects a new kind of depth. The 3DS is perfect for keeping children entertained for hours, or for keeping adults occupied on long trips. And the 3DS isn't limited to just playing games. Watch TV shows and movies, listen to music and take photos with your versatile 3DS.
When you buy the Nintendo 3DS, you'll get a variety of cool features no other handheld console offers. The 3D depth slider allows you to turn off the 3D effect or enhance the intensity to your liking, and the built-in motion sensor allows the console to respond to motion-compatible 3DS games instantly. You can tilt or move the system, and it will react accordingly with the game. The 3D camera is a feature that allows you to create 3D photos, video and stop-motion animation that you can share with family and friends.
Internet interaction
You can store photos, sound recordings, music and games downloaded from the Nintendo eShop on the 3DS with the SD memory card that comes with it. Streaming apps such as Netflix and downloading capabilities allow you to watch movies, TV shows and videos or listen to music on your console. You can also communicate with other players with the 3DS' StreetPass communication option. Exchange game data, high scores and customize characters with other 3DS players. With SpotPass, you can connect to WiFi wherever it's available, allowing you to download special items available from Nintendo Zone.
Before you buy the Nintendo 3DS, you might want to consider an accessory bundle, which will ensure you'll have everything you need to get started. Pick out a bundle with cases, screen protectors, extra touch screen pens, the console itself and games to get you started. When you opt for a bundle, you won't have to keep going back to buy more before you can get started playing. The 3DS also comes in blue, pink, white, midnight purple and black, so you can have a console that best fits your personality. At Kmart, we also carry connector cords, power packs, wall chargers, car charges and anything else you'd need to operate the 3DS wherever you are.
When you buy the Nintendo 3DS, you won't necessarily have to buy new games. Because it's backward compatible with nearly all Nintendo DS games, you can make the most of the games you already have. Kmart also carries a huge selection of 3DS games for people of all ages and with different interest. It's easy to find games that will satisfy whoever the console is for, whether it's for one person or for the whole family to share.
Whether you're looking to expand your game collection or upgrade to a new device, Kmart has everything you need to take your gaming to the next level.
---
---